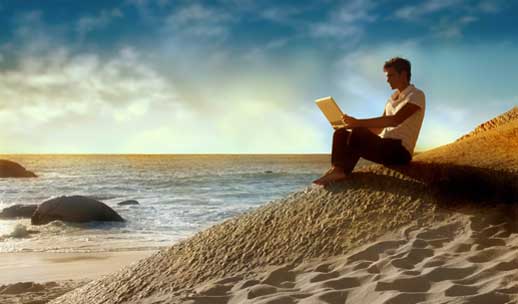 It's truly incredible the impact the Internet has had on the way people work. For starters, it's made it easier for people to take their work home with them because people can now access their email, work documents, etc. from their smartphone or computer at all times of day. This has led to an increase in productivity, but it also means people work more hours than ever which in turn leads to an increased risk of burnout. The Internet has also changed how businesses work since it's made it much easier for companies to talk with people around the world and deliver products anywhere and everywhere. However, the change that's going to have the biggest impact in the years to come has to do with the fact that many people no longer work traditional jobs and instead do freelance work on the Internet. In other words, they're able to do work that they get paid for by simply getting online and performing various services.
A huge number of millennials now work in a virtual office. It's important here to differentiate between the two types of virtual office. The first thing that virtual office can refer to is a service that companies like Office Evolution Golden offer. They offer what they call a virtual office, which is essentially a service that they charge for where they offer communications support and various address services. This means that they will have a virtual receptionist who will answer a phone for you where they take messages and pass them along, where they differentiate between what's important and what isn't. It also means that they will give you an address that you can use for your business, etc. Virtual offices are wildly popular for small businesses that can afford a full office but still need some support with things.
However, the virtual office that was being referred to, the place where millennials work, is something different. Instead, it simply means an office that exists in the virtual space. In other words, instead of getting up, getting dressed, and heading to a physical location to work each day, many millennials are instead getting out of bed and heading to their virtual office, i.e. their computer. Instead of going into a job, they simply hop on their computer and do work online. They are then paid for this work via PayPal or other services. They never have to go into a physical location, they never have to get ready for work if they don't want to, and they can work from virtually any place on the planet as long as they have a reliable Internet connection. The beauty of the virtual office is that people can work whenever they want to, for however long they want to, and from wherever they would like. If they want to take a day off on a Thursday, they can make up the hours Wednesday night or do some work over the weekend. It's not hard to see why the virtual office is becoming so popular.