If you are in need of A/C repair, then there are many signs that can help you figure out the best times to contact a repairman so that you don't face further damages to your HVAC system. This is very important as the longer that you wait, then you may experience further issues or larger issues that can lead you to further troubles with your system. If you neglect to get it done, then you may even have to replace your system as a whole. This is why it is important to recognize the main signs that you need to call in an HVAC technician in order to get your air conditioning unit inspected properly.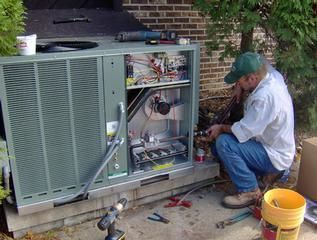 Listed here are the top signs that you need the help of an A/C repairman and that you need to enlist an A/C repair or heating repair service team to help inspect your unit:
You don't have cold air flowing out any longer. If you don't have cold air flowing out of your unit any longer, then that is a huge problem as that is what your unit is supposed to do in the first place.
Your air flow is poor. If you notice that your air flow is poor or less than it used to be, then you will want to contact a technician that can come and look into the problem. This means that you may have something blocking your air filter or your air filter may need to be changed.
You are finding water spots or moisture from your HVAC unit. If you find moisture or water spots near your HVAC cooling system, then that is also a sign that something is wrong.
You are finding that you have thermostat problems. If you are experiencing thermostat problems, such as the air doesn't feel as cold as the thermostat says, then you may have a larger problem as well.
It is starting to smell moldy or funny. If you notice a funny smell or a moldy smell, then you likely have a larger problem as well.
You have noticed that it is making strange noises. If your A/C unit is making loud or obnoxious noises, then you will want to get it inspected in order to find out the problem.
As you can see, there are many signs that work as indicators as to when you need someone to come out and inspect your air conditioning unit. This can be anything along the lines of showing that you need to replace an air filter or possibly even replacing your air conditioning unit as a while. If you are in need of an HVAC unit, then you will want to find the best technicians to help you with your needs.
There are many different things that you can look for in the right technicians and you will want to find a team of experts that are reliable and dependent. If you are looking for the right professionals, then you will want to reach out to the experts over at DNI Heating & AC Repair.